Elena Moussa is a Russian-born model, best known as the wife of Greg Gutfeld—the TV producer, commentator, and author.
The ultra-stylish fashion maven has been married to the star of The Greg Gutfeld Show for almost two decades now.
Gutfeld, who has been a staple on the Fox News network—including stints as a panelist on The Five and Red Eye—has penned books, and also done time as a comedian.
But is there more to this statuesque Russian beauty than who her husband is? Here's what we know.
The Origin Story
Elena Moussa Gutfeld was born on May 4th, 1982, in Russia.
As a child, she and her family relocated to the UK, settling in London, before Elena found her way to New York City to attend school.
She graduated from Parson School of Design and Fashion Institute of Technology in NYC.
The 5'10 Russian captured the eye of talent scouts in the UK, and had a successful modeling career before she discovered her talents behind the camera—as a photo editor for mainstream men's magazine, Maxim Russia.
Love In London
While Moussa was working for Maxim Russia in 2004, she took a business trip across the continent to London.
There she met Greg Gutfeld for the first time.
He had previously been working as editor in chief of Stuff Magazine, a major UK publication, but had recently taken on the role as editor at Maxim UK. From 2007 to 2015, he hosted the 3AM series Red Eye.
And by recently, we mean he met Moussa on his first day on the job.
In an interview more than 10 years after their wedding, Gutfeld explained that he met her during a meeting of all the global Maxim editors.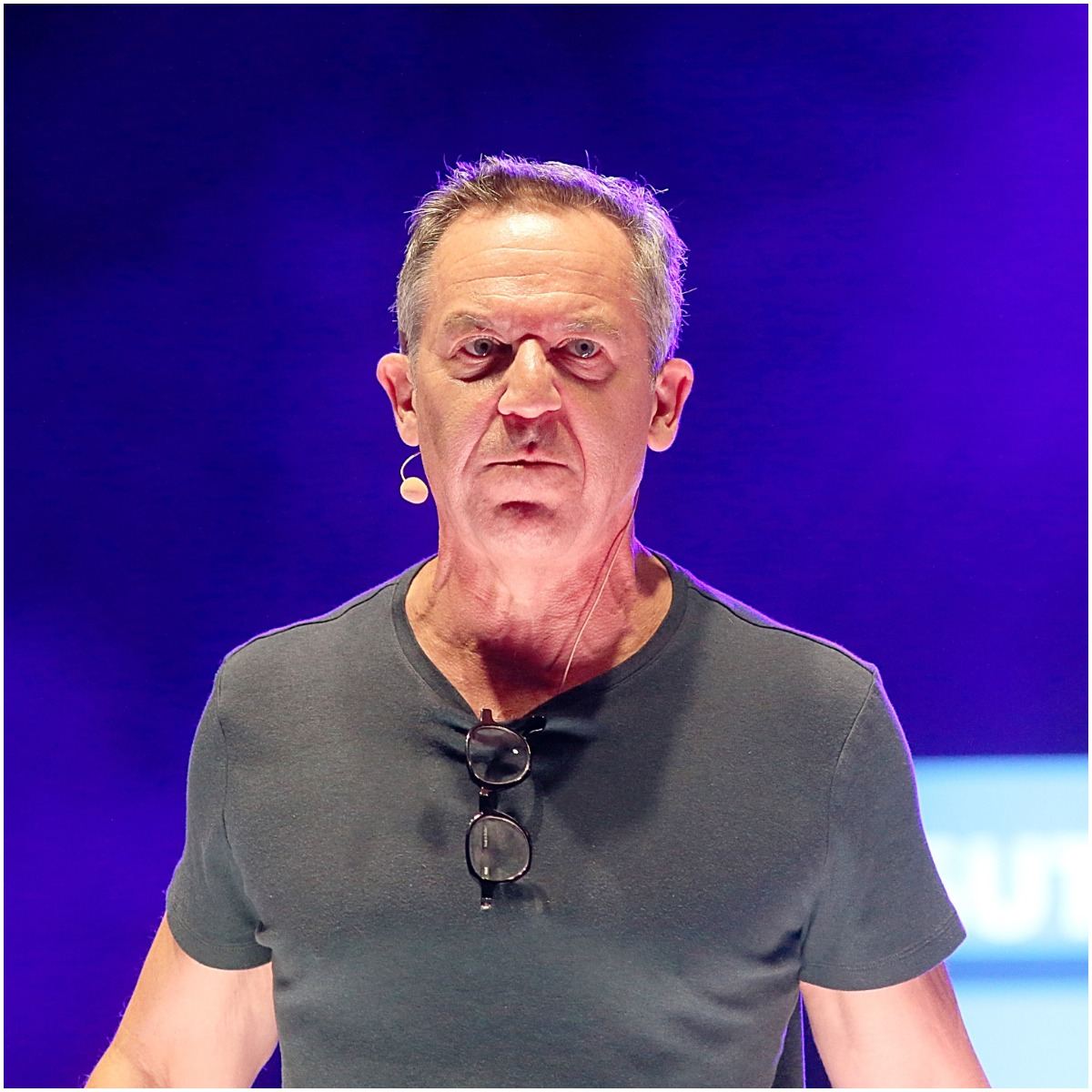 The pair met and it was love at first sight—for Gutfeld, anyway.
The editor and outspoken commentator is 18 years Moussa's senior, being born in the US on September 12th, 1964.
He says he turned to the Maxim Russia editor and said, "Who is this woman?"
He proceeded to hit on the Russian stunner for three straight days, but was cruelly rebuffed the entire time. Eventually, he gave up hitting on her and just asked her out on a date. His persistence paid off.
"And then she moved to London to be with me," he proudly declared.
Within five months of their first date, they were married in December of 2004 in a civil ceremony in New York City.
The couple's wedding captured the attention of The New York Post at the time, which described the elegant Moussa as a "gorgeous former runway model."
Ever the closet romantic, Gutfeld wrote about his wife a few years later, in his 2008 bio—Lessons from the Land of Pork Scratchings.
He's also the host of the podcast – The One w/ Greg Gutfel‪d‬.
The Jet Set Life
Following their marriage at the end of 2004, after already relocating from Russia to be with her new husband, Moussa was on the move again in 2006.
This time, she was headed to New York City.
Gutfeld's contract with Maxim UK wasn't renewed in 2005, due to sales being down significantly that year.
Instead of seeking work to keep him in London, the pair returned to his native New York roots, and set up home on the East Coast of the US.
The pair don't have any children to date, although Moussa often posts pics of her family and friends' children to her Instagram account.
Although the married couple might call The Big Apple home, Moussa doesn't tend to stay in one place for long.
She regularly heads off on overseas adventures, posting to Instagram from exotic locations like Tokyo, Barcelona, Moscow, Kauai, and Isola Budelli.
Not averse to keeping closer to home, she spends a lot of time on both coasts of the US, exploring her own backyard and jetting across to Los Angeles.
READ MORE: Who is Pokelawls' girlfriend?
The Moussa Project
With all the time Moussa spends traveling the globe, it's amazing she has any free time left at all—but she had enough to establish her own store in May of 2011.
The store—aptly named The Moussa Project—curates luxury clothing and accessories for special occasions and costume parties.
Moussa often showcases her finds and designs on Instagram, and on the Moussa Project Facebook page.
Many of the gowns and bespoke pieces can be rented for awards ceremonies, but the brand's online presence hasn't been updated since 2018.
READ MORE: Marc Daly Net Worth
Elena Moussa – Net Worth
Moussa earned most of her wealth from working as a photo editor for Maxim Russia as well as a model.
In 2011, she founded The Moussa Project.
Therefore, Elena Moussa has an estimated net worth of $2.5 million.
Want to know what a former runway model and celeb-wife does with her time? Check her out on Instagram!
READ THIS NEXT: Who is Constance Nunes?