What is Sam Taylor-Johnson's net worth?
Introduction
Sam Taylor-Johnson (birth name – Samantha Louise Taylor-Wood) is an English photographer and filmmaker who is known for her work on the short films titled "Misfit" and "Love You More."
She is best known for directing the 2009 film "Nowhere Boy" and the 2015 movie "Fifty Shades of Grey."
Taylor-Johnson once said:
"Art was a way of reinventing myself."
Biography
She was born on March 4, 1967, in London, England, United Kingdom.
Her mother, Geraldine, is an astrologist and yoga teacher.
Her father moved out of the house when she was 9 years old.
In 1990, she graduated from Goldsmiths College.
In the early 1990s, Sam began exhibiting fine art photography.
In 1997, Taylor-Johnson won the Illy Café Prize for Most Promising Young Artist at the Venice Biennale.
In 2002, Sam created an art video project featuring a sleeping David Beckham.
In 2008, she directed a short film – Love You More – produced by Anthony Minghella and written by Patrick Marber.
A year later, she made her directorial feature film debut with her film titled – "Nowhere Boy," a biopic based on singer John Lennon's childhood.
In September 2011, Taylor-Johnson collaborated with Solange Azagury-Partridge on the film named – "Daydream."
In 2011, Sam was awarded the Officer of the Order of the British Empire in Queen's Birthday Honors List for her services to the Arts. In the same year, Taylor-Johnson directed the R.E.M. music video "Überlin."
Fifty Shades of Grey
In 2015, she directed "Fifty Shades of Grey," a film that is based on E. L. James' 2011 novel of the same name. It grossed more than US$571 million worldwide.
In 2016, Sam became a member of the Academy of Motion Picture Arts and Sciences (AMPAS).
In 2018, she wrote and directed – "A Million Little Pieces," a drama film based on the book of the same name by American writer and businessman James Frey.
Husband
In 1997, Sam Taylor-Johnson married Jay Jopling, an art dealer. Sam said about her marriage:
"I lived it large for a little while, but I wasn't happy in the glitzy-glamour, high-market, fancy living. That was a big lesson."
They got divorced in 2008.
On June 21, 2012, Sam married Aaron Taylor-Johnson.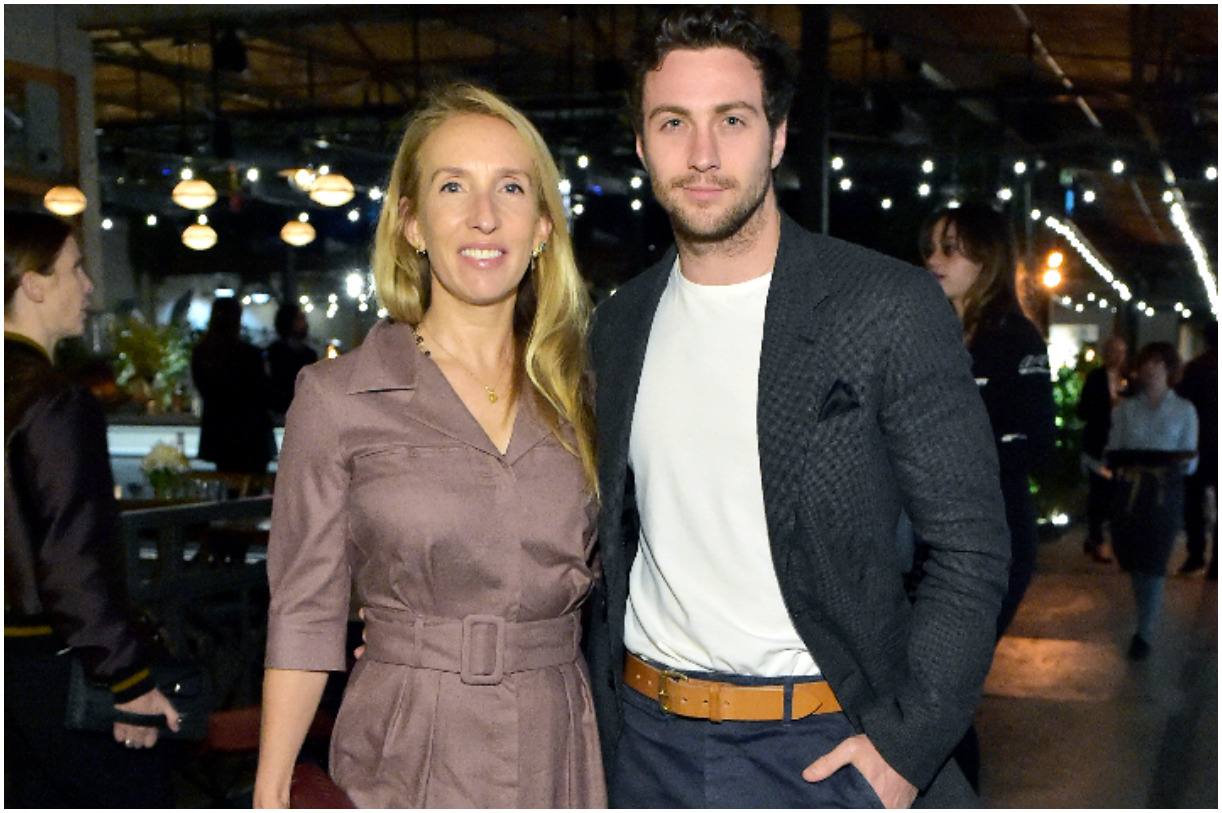 After the wedding, Aaron confessed:
"I knew instantly with Sam that I'd found my soulmate. I knew instantly that I wanted to spend the rest of my life with this person."
Sam said:
"I can't dwell on what other people think or say. With Aaron it just literally felt like we were so connected, straight away."
Note – Aaron Taylor-Johnson is an English film actor who was cast in Kick-Ass with Nicolas Cage. 
In 2009, Aaron portrayed John Lennon in the British film titled – "Nowhere Boy," which tells the story of John Lennon's late teenage years. 
In 2016, Aaron won a Golden Globe for his supporting role in the film – "Nocturnal Animals." In 2015, Taylor-Johnson appeared as Quicksilver in the blockbuster – "Avengers: Age of Ultron."
Sam and Aaron have received far more scrutiny than other celebrity couples due to their 23-year age gap. She said:
"If I gave a second thought to other people, I would be the unhappiest person, probably still in a miserable marriage."
READ MORE: Is Nicole Linkletter married?
Children
Sam has four daughters.
In June 1997, she gave birth to her first child at age 30, a daughter named Angelica Jopling.
In November 2005, Sam gave birth to her second child at age 38, a daughter named Jessie Phoenix Jopling.
On July 7, 2010, Taylor-Johnson gave birth to her third child at age 43, a daughter named Wylda Rae Johnson.
On January 18, 2012, she gave birth to her fourth child at age 45, a daughter named Romy Hero Johnson.
READ MORE: Bjergsen Net Worth
Cancer
In 1997, several weeks after giving birth to daughter Angelica, Sam was diagnosed with colon cancer.
In 2000, Taylor-Johnson was diagnosed with breast cancer. Later, she underwent a mastectomy, a surgery to remove all breast tissue from a breast.
During an interview, Sam confessed:
"The first time didn't change my perspective. The second time, I changed everything."
Taylor-Johnson went on to say:
"I went through all the treatments. I did chemotherapy. I lost hair. I did the mastectomy. And then I changed my diet, my world, my art."
Quotes
"It's hard when you get two headstrong people with very powerful visions that are so different."
"I'm still very close to a lot of my artist friends and I have a studio and I haven't stopped making work."
"I don't want to be defined by the success of it and I don't want to be defined by the misery of it."
READ MORE: Jamie Gangel Biography
Trivia
She is a longtime friend of Tom Ford, a London-based American fashion designer who currently serves as the Chairman of the Board of the Council of Fashion Designers of America.
Tom directed the Academy Award-nominated films Nocturnal Animals (2016) and A Single Man (2009). In 2006, Ford launched his eponymous luxury brand.
Sam had numerous solo exhibitions, including:
the Contemporary Art Museum, Houston (2008);
MCA Sydney (2006) MoCA Cleveland (2007);
BALTIC, Gateshead (2006);
MCA, Moscow (2004);
State Russian Museum, St Petersburg (2004);
Hayward Gallery, London (2002);
Museo Nacional Centro de Arte Reina Sofia, Madrid (2000);
Hirshhorn Museum and Sculpture Garden, Washington DC (1999);
Louisiana Museum of Modern Art, Humlebaek (1997);
Kunsthalle Zurich (1997).
Taylor-Johnson practices Transcendental Meditation (a specific form of silent mantra meditation) and yoga. Sam once said:
"I wouldn't be able to survive everything without the (Transcendental) meditation that I do."
Sam Taylor-Johnson – Net Worth
Taylor-Johnson earned most of her wealth from being a professional photographer and filmmaker.
She is best known for directing Fifty Shades of Grey and A Million Little Pieces.
Sam was also involved in the production of A Million Little Pieces, Gypsy (10 episodes), and more.
Therefore, British filmmaker Sam Taylor-Johnson has an estimated net worth of $20 million.
READ THIS NEXT: Nate Bargatze Net Worth